Let me start off by saying that I have not worn anything on my wrist since I was in about the third or fourth grade. I used to wear my old analog watch too tightly and it gave me a skin rash. Since then, I've shied away from and never really acknowledged wearables of any sort as a necessity.
Recently, I was given a Fitbit Ionic to try out and overall I was both surprised and impressed by what I experienced. It goes without saying that just because you feel tired, that your muscles and body aren't entirely depleted of energy. Wearing a smartwatch or fitness tracker can provide the necessary mental motivation to keep you moving.
Step Counter
Overall: Negative
I didn't find the step counter to be very accurate. I would go to sleep and wake up with a couple hundred steps already logged, sometimes close to a thousand. This is because, in my case, I roll around a lot in my sleep and the step counter sometimes logs those movements as steps.
You'll know that when you spend a good portion of the day not moving far from one position that you didn't actually take a couple thousand steps. It got me wondering how exactly the Ionic counts your steps, or what it decides is a step, but I suppose that's all math and algorithms.
The step counter resets at 12:00 am each day and further tracks this metric every day and over the course of the month. At the end of each day, I subtracted whatever steps the Ionic had already logged that morning before I woke up. I estimated that whatever that number was that it was probably the more accurate metric.
When the time approaches the top of each hour, the Ionic will remind you how many steps you have left to walk in that hour. It's not always feasible to complete each hourly goal, but a good reminder will keep you active regardless. I liked this feature because it got me going and out of my seat at work.
While overall calorie burn at the end of the day might be inaccurate, I did enjoy the Ionic's reminders to get my 250 steps in each hour.
Calories
Overall: Mixed-Negative
It doesn't take heavy exercise and cardio in order to burn calories. Indeed, any sort of activity (even going up and down stairs), burns calories. When I saw the thousands of calories I burned every day, I was skeptical at first. You do burn calories while sleeping, but not nearly as much during exercise. However, seeing hundreds of calories burned while I was sleeping just didn't make sense. That's why I considered the calorie tracker to be just as off as the step counter.
When conducting lifting or cardio exercises, I set the Ionic to that specific workout. The Ionic takes into account or age, weight, and heart rate in order to guestimate your calorie burn. These specific trackers on specific exercises seemed much more accurate. It made more sense considering the exercises I do around six days out of the week.
Like I mentioned before, burning a couple thousand calories over the course of a day isn't actually isn't too difficult if you're routinely active.
Sleep
Overall: Positive
I'm not a fitness tracker geek, so again I don't know exactly how the Ionic tracks your sleep. Compared to the inconsistencies of the step counter, the sleep tracker is a huge improvement in terms of accuracy. I made a habit of checking the times I went to bed and when I first opened my eyes the next morning. To my surprise, the Ionic was pretty close in tracking when I fell asleep to when I woke up.
I admit that I'm not the best in sticking to a strict sleep schedule. Once I saw my crazy sleep schedule in data form, however, I paused and thought about my morning energy levels. I'd always known that getting 4-5 hours of sleep on random weekdays was going to affect my performance (but I did it anyway). Seeing the data in that form really made me wonder if that's the way I really wanted to wake up each morning-having to snooze every alarm and even barely make it to work on time.
I am now making an effort to be in bed at hours that work for me and make my metrics consistent. A consistent schedule, a healthy diet, and exercise are just some of the combined factors that will make mornings easier to handle. Having a consistent schedule appear on the Fitbit app also makes me happy.
Exercise
Overall: Positive
When you set the Ionic to track a specific exercise, it will track time, calories, and heart rate from start to finish. Once you complete the exercise, it will log it and add it to the data the next time you connect to the Fitbit app. You'll need to complete a lot of exercises to see a clear graph, but the Ionic has plenty of exercise choices to choose from:
Weights
Run
Bike
Swim
Treadmill
Intervals
Workout
Personally, I do weights and cardio (run) the most, but I can see workout mode working as sort of a cross between the two. I found the calorie tracker to be more accurate in this respect than the overall day counter. The Fitbit app has a five-day exercise tracker that analyzes the workouts you complete and puts them on a graph for you. It will tell you at what percentage was fat burn or cardio.
It was a new experience to see my workouts analyzed this way. It took me awhile to understand what the graphs meant for my long-term health, but keeping a consistent schedule is key to overall improvement.
Battery and Music
Overall: Positive
The battery life for the Ionic was very impressive and exceeded my expectations. Granted, I wasn't trying to use every app at once and I wanted to be efficient as possible with my use of the Ionic, my smartphone, and my Bluetooth headphones.
The Ionic needs a Bluetooth connection in order to sync with the Fitbit app. You can still have your Bluetooth headphones connected to your smartphone in tangent with the Ionic. I found this aspect to be a huge plus in my book. You can sync the Ionic to the Fitbit app while you listen to music.
My music is primarily stored on Spotify and my smartphone's music app. Unfortunately, the Ionic does not have a Spotify app (uses Pandora), and you have to download Fitbit software to your laptop or desktop in order to transfer your onboard music to the Ionic. I found that whole process to be tedious and I chose to just stick with listening to music on my smartphone. This way, I conserve battery that can, in turn, be dedicated to the Ionic's fitness trackers.
Despite the tediousness, the Ionic still recognizes the music that's playing from your phone and in your headphones. It will display the name of the song, artist, and song length. It will give you control over volume, play/pause, randomizing the choices, and whether or not you want the audio to come from the watch or phone.
One of the points that wearable enthusiasts like to make is that with a smartwatch, you don't have to keep your phone on you at all times. While the Ionic will vibrate if you receive a text or call, there is no way you can respond to either because there is no keypad or microphone. The notifications are handy, however, in reminding you that you have missed calls or texts if you haven't checked your phone in a while.
If I wanted to, I could make the Ionic last a full 5-6 days on a single charge. When it was down to around 50%, it recharged in as little as 30-35 minutes. The wearable industry is always morphing and updating, but battery life seems to be a problem across multiple brands and devices. Like I mentioned at the beginning, I was genuinely surprised and appreciative at how long the Ionic lasted.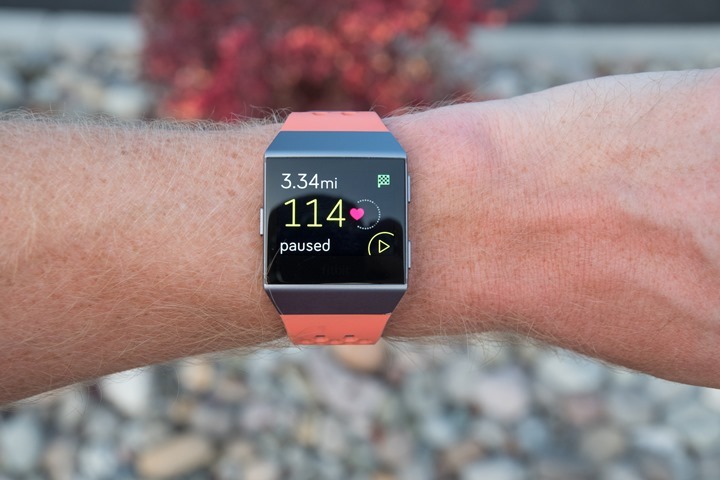 Comfort
Overall: Positive
I was originally skeptical of even putting on the Ionic considering the experience with my last watch. However, I simply adjusted the band whenever it felt too tight or I just needed to let my skin breathe. You don't need the tightest setting in order for the heart rate monitor to track your beat.
The underside of the Ionic didn't create a rash as I thought it would, but that's probably because I was more conscious of wearing it loosely. It's not a huge deal if you take off the Ionic for an hour or when you don't think you'll be very active. It's always good to let the skin breath for a while even when wearing a normal watch.
The Ionic is also waterproof up to 50m, making it safe for showers and water line swimming. Again, owning a waterproof wearable was surprising and I was glad I didn't have to take it off anytime I went near water.
Conclusion
I still don't think I would have gone out and purchased a smartwatch like the Ionic if I hadn't been given this one. Originally I didn't have very high expectations of it considering the mixed nature of the wearable industry. The Fitbit app is also highly interactive with graphs and statistics which I found beneficial to my understanding of my health.
However, I would say my overall experience with the Ionic was positive and surprising to say the least. I think I'm a firm believer in the power of a wearable to give you that extra umph to get over your daily activity and exercise goals.