Are you the guy or girl who is tired of pushing the least amount of weight in the weight room? Don't worry, because we're about to go into detail with these lifts that will get you in better shape than you could hope for. Remember, the key is consistency and healthy eating (lots of protein) to help those muscles build up.
Lifting is recognized by most fitness experts to be the most beneficial full body exercises you can engage in with bumper weights and bar. Usually lifting is done on a platform, cage, or station. Cages and stations are usually reserved for things such as squats because you need the pegs to place the bar. A raised platform brings the bar and bumper plates closer to you for an easier lift.
For tips on how to find a gym that's right for you, check our detailed guide on how to find a gym. You might also want to refresh on proper gym etiquette.
Equipment
If you watch the Olympics or Crossfit Games, you'll see the competitors conducting these lifts with specialized lifting shoes that give them an added boost to their lifting capabilities. Lifting is phenomenal for the body, but it's no easy task. If you're using the wrong part of your body or muscles, you'll probably feel tension and discomfort in your spine.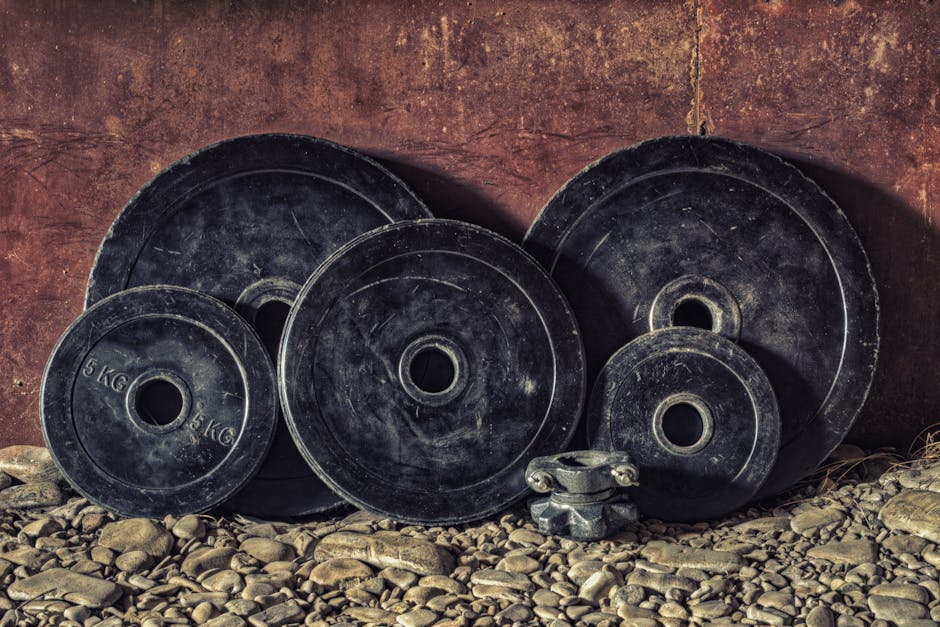 Belts

To stabilize the back and prevent the spine from hyperextension or overextension.

Gloves

For better grips on the bars.

Chalk 

For better grips on the bars.

Weightlifting Shoes
The Importance of Form
You'll hear professionals and trainers talk all day about the importance of form. Lifts are great full body workouts, but they're very easy to screw up. If you're lifting a lot of weight, you could end up with a lot of unwanted tension and soreness. Repeated failure to get in proper form will inevitably lead to severe injury.
When we discuss each lift, we'll look at how best to conduct each one to make sure you're hitting the right muscles and avoiding the wrong ones.
The Lifts
Deadlift
The deadlift is one of the best all-around lifts on our list. By the end of the day, you should really feel it in your hamstrings, quads, and glutes. The deadlift utilizes special weights called "bumper" plates which are about as around and wide as 45lb plates but different weights. These bumper plates are lighter and made of rebounding material to allow one to drop the bar to the floor without destroying the floor.
Hence why certain gyms have lifting platforms that allow for dropping.
Tip: There are certain gyms that are more ok with you dropping your bar onto the platform than others. If your gym only has one lifting platform, while the rest are machines, you're likely to disturb and irritate others if you repeatedly drop the bar. Try and attend gyms designed specifically for heavy lifting.
With your desired weight on the bar, place your hands on the bar. Let one hand be overhand and the other be an underhand grip.

You can also try double overhand if it's more comfortable for you.

Bend your knees slightly over the bar. Straighten your back.
Stand up with your legs and lock your knees.
Hold the lift for as long as you exhale.
Ease the bar back down exactly the way you lifted but opposite direction.
One of the easiest ways to injure yourself is to curve or round your back. You'll be able to lift much more weight if you keep your back neutral and let your various other muscles do the work. Speaking of muscles, the deadlift, if done properly, will work the following:
Abs
Arms
Back
Legs/Glutes
Squat
Some people may not classify the squat as a lift, but when you're using a barbell with heavy plates, you have our assurances that you are in fact lifting. There are two ways to conduct a squat—front facing and shoulder depending on where you prefer the bar. If you're in a gym, more often than naught you'll be using the heavier plates but bumper plates are just as fine.
In a squat, you'll mostly be working the legs from your quads to your glutes. The squat is one of the best lower body lifts because all your power comes from down below. Both positions are going to be challenging regardless, but that's where its the most fun. Let's look at both.
Front
Your hands should bend backward so your elbows are pointing straight in front of you.
Place the bar on the "shelf" which is where your clavicle and anterior deltoids protrude from your chest. Rest the bar on them.
Knees out, elbows forward, sit back, and squat down below your knees. Don't go too far.
Stand up and try not to bend your back.
Shoulder
The shoulder squat is virtually the same movement except you place the bar along your shoulder blades. Again, try not to bend your back or dip too low past your knees.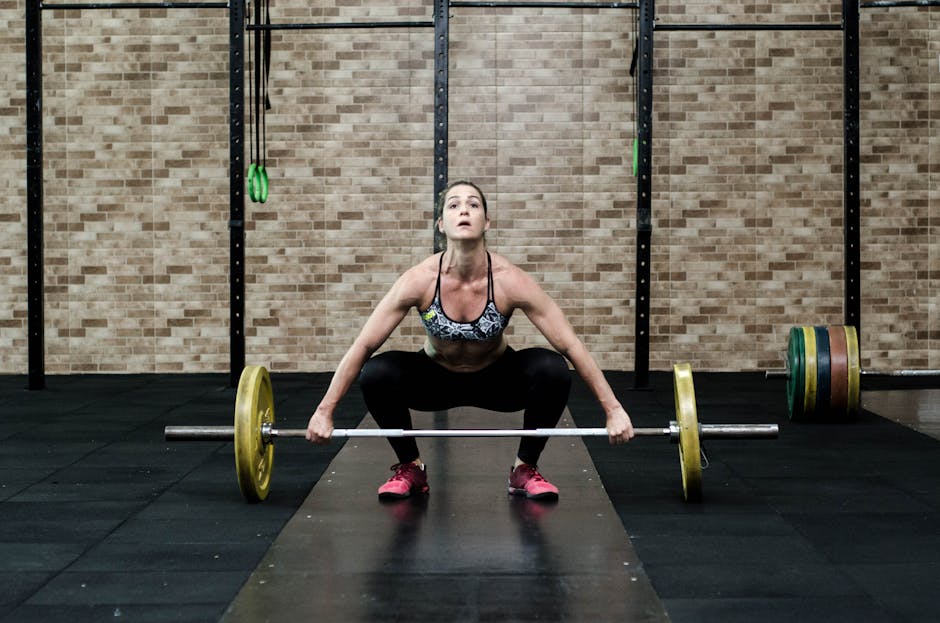 Push Press
The push press doesn't involve much squatting or bending, which might appear as good news for some but that shouldn't discount it as an easy lift. The push press is a shoulder and core focused exercise that will give you the ability to push and lift bigger weights.
The reason why people are able to lift big weights isn't just because of their muscles, but because of where they drive their power and strength from.
Start out how you would with a front squat—placed over your clavicle and anterior deltoids.
Bend your knees slightly.
Push the bar upward and your face forward.
Let the bar down before returning it to its position on your chest.
The key with this lift is to not put your max weight on the bar when you're trying it out for the first time. Pushing a weight is different than squatting it, so start with smaller weight and add more later as you see fit.
Snatch
The snatch is one of the quicker lifts and not one you'll commonly see in your average gym. By quick, we mean that it relies a lot on explosive power through your hips, not just pure strength. It's a difficult lift considering there are two parts to it, so you'll want to make sure you start out with a smaller weight if you're a beginner.
If you perform a successful snatch, you'll feel the burn in your various leg muscles but also greater strength in the hard joints such as knees and elbows.
Begin like you are about to deadlift, but your hands need to be at least 30 inches apart, near the bumper plates.
Lift the bar while exploding hips forward and raising shoulders.
Raise the bar above your head at arms length while squatting down
During this part, your head and shoulders should be in front of the bar.
Move your head back and the bar drop to the floor.
With this lift specifically, it is almost universally mandatory that you use bumper plates since you will be letting the bar drop too the floor. Since you are effectively squatting the weight above your head from a different position, you can expect much of your lower body to feel the burn as long as your drop below your knees.
Clean
The clean is pretty much a combination between the front squat and the snatch to a certain extent. This lift works most major muscle groups from your calves all the way to your traps. It can be easy to dismiss a lift as just something that works your lower body when you don't immediately feel it. Intermittently increasing weight will eventually get you there. 
Since you are snatching this weight and moving the bar above your legs, try and start out with a smaller weight to test your strength.
Squat down and overhand grip the bar a little wider than shoulder-width. Shoulders should extend over the bar.
Explode upward with the hips and knees. Allow the bar to brush your thighs.
Jump forward and allow the bar to fall onto your clavical/anterior deltoids with your elbows pointed outwards.

As the bar falls, you should be squatting down with the bar.

Stand up like how you would with a front squat.
The hardest part with the clean is keeping your form intact through the lift. In particular when you are springing upward while snatching the bar at your chest. You already know what we're going to say about lighter weight, but the form is always preferable to the number of lifts you do.
Health Benefits
As we've mentioned before, these various lifts are some of the best full-body workouts besides body-weight exercises (workouts without weights). Doing all of these lifts together is certain to get you into shape faster than machines.
In addition to building muscle, these lifts improve your core strength which gives you the ability to lift past your own body weight. Remember, your muscles don't do the job alone. Building core strength enables you to pull and push weight you previously weren't able to.
Always remember quality over quantity. The more lifts you do in bad form, the increased risk you have of injury. But if you do a few of them the right way, you're sure to feel the burn.